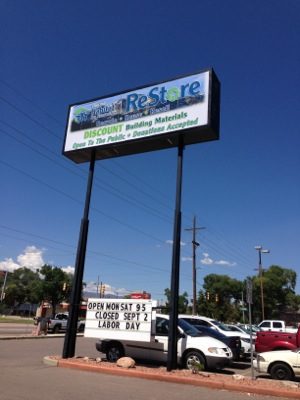 Located at:
411 S. Wahsatch Ave.
Colorado Springs, CO 80903
Ph: 719.667.0840
Fax: 719.477.1303
The ReStore opened its doors January 17, 2004 as a self-sustaining fundraising entity benefiting Pikes Peak Habitat for Humanity.
Starting with 9,857 square feet originally leased from Michael Garman Studios, the ReStore quickly grew, and in 2007, it expanded to its present size of 31,500 sq. ft. In 2008, it reached $1 million in donations to Pikes Peak Habitat, and in 2009 Pikes Peak Habitat purchased the property, creating a permanent home for the ReStore.
Most of the inventory is donated by individuals and businesses throughout El Paso County. The store is staffed primarily by volunteers, allowing more of the store's revenue to go to building Habitat houses for those in need. Now celebrating its 13th year, the ReStore has reached over $12 million in sales and more than $4 million in contributions to Pikes Peak Habitat.