Pikes Peak Habitat for Humanity selects applicants based on 3 main criteria:
Need for Housing
A need for housing can be expressed in a variety of ways. Here are a few examples:
You are living in temporary housing (including living with family).
You are paying more than 35% of your household income towards rent.
There is crime in your neighborhood that makes you feel unsafe.
Your living conditions are overcrowded.
You are living in unhealthy or unsanitary conditions.
If you currently own a home or have owned a home in the past three years, you are not eligible to purchase a Habitat home (Mobile or Trailer homes are excluded from this criteria).
Habitat is a mortgage lender. It is the responsibility of Pikes Peak Habitat for Humanity to assure that applicants are capable of repaying a mortgage without significant cost-burden to the applicant.
Applicants' household income must fall between the minimum and maximum income requirements for their household size. The gross monthly income of all household members over the age of 18 should be included to determine the household income.
Applicants income must come from the same source/employer for at least six months prior to applying. If the applicant is self-employed, income must be able to be documented for 24 months prior to applying. Additionally, income must be reasonably estimated to last at least two years in to the future.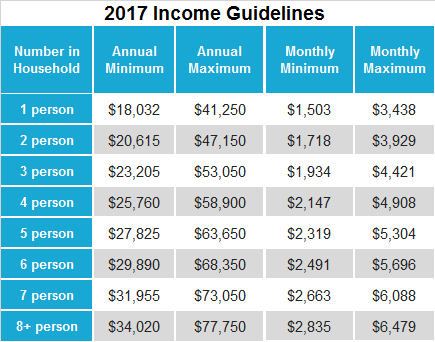 Income sources may include:
Job wages
Child Support
Alimony
Social Security Survivor benefits
Social Security Income and Social Security Disability
Income that will not be considered includes:
TANF
SNAP
Section 8
Unemployment Benefits
Temporary Income
Income that cannot be documented
Credit Check
Habitat will conduct a credit check to look for outstanding debts, collection accounts, open judgments and recent bankruptcies. Credit scores are not considered. Bankruptcies must be discharged two years prior to applying and no unsatisfied/outstanding judgments may appear on the applicants' credit.
Willingness to Partner
Partnership is a key component of Habitat's homeownership program, and the organization as a whole. In order to build homes, Habitat partners with home buyers, donors and volunteers. In a partnership each partner makes a contribution. Habitat home buyers contribute between 350-450 hours of sweat equity, or volunteer time, towards helping to build their home alongside Habitat staff and volunteers. Habitat home buyers also complete mandatory home buyer education classes and submit to a monthly financial review while their home is being built.
Additional Criteria
First-time Home Buyer Applicants may not have owned a house or land three years prior to applying (mobile homes are excluded).
U.S. Citizenship All family members must be U.S. citizens or Legal Permanent Residents.
El Paso County Resident Applicant(s) must have lived in El Paso County for a year before applying.
Marital Status Married couples must apply for the program together. Pending divorces must be finalized before applying.
Bedroom Policy
Habitat builds homes to address the needs of current family size. The number of bedrooms that a family is eligible for is determined using Habitat's bedroom policy. This policy states that:
Every household member will have a bedroom.
No more than two people will occupy a room.
Children of opposite genders will not share a room.
Children more than five years apart will not share a room.
If you feel that your family meets our eligibility guidelines, visit the apply page to learn how to apply. If you have additional questions, contact our office.