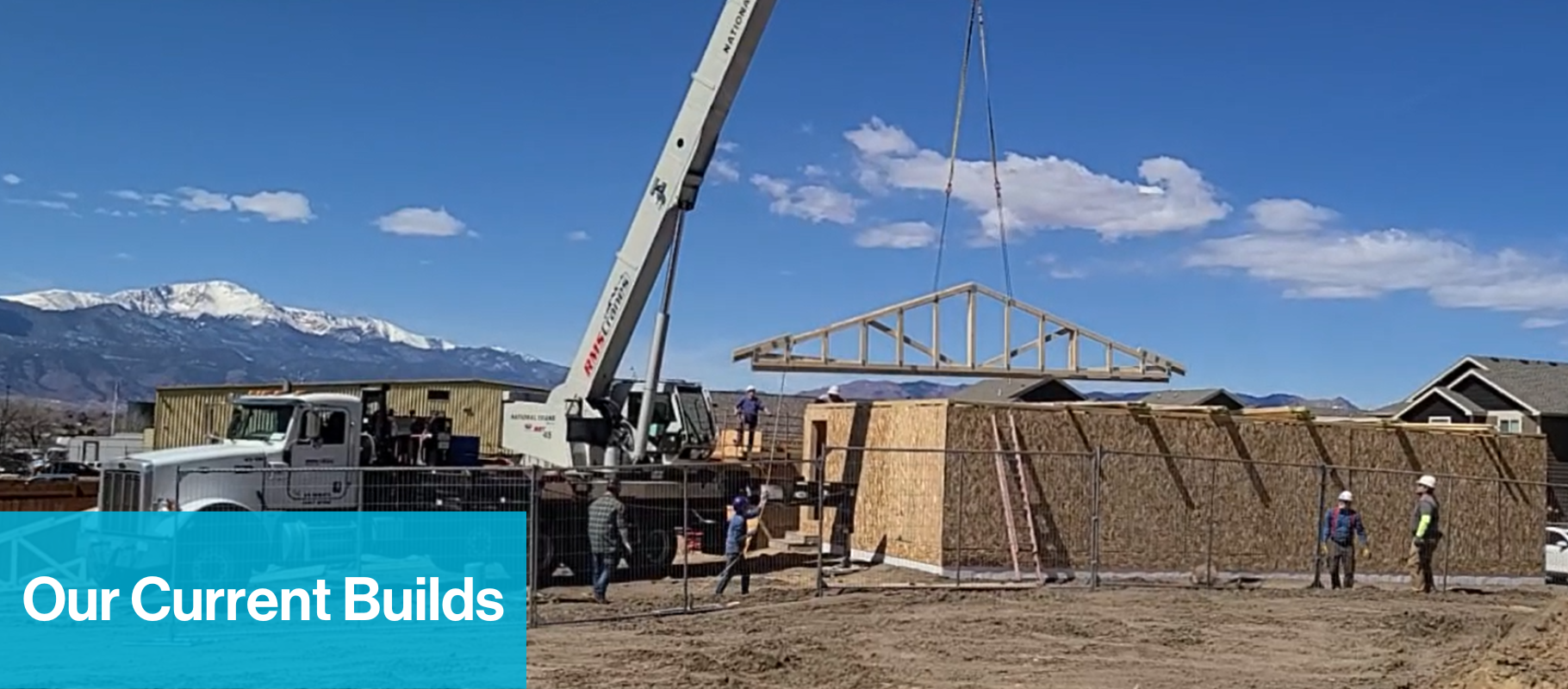 We're Building Strength, Stability, and Self-Reliance Through Shelter
Our Current Builds
Pikes Peak Habitat for Humanity builds and preserves affordable housing in partnership with workforce families in El Paso County, Colorado.
We build homes year-round and partner with more than 3,000 volunteers each year. Habitat homes are affordable, energy-efficient, and create permanent housing solutions for families across our community.
   Meaningful partnerships with donors, sponsors, and volunteers help keep our houses affordable.
   Habitat's award-winning design and energy-efficient building practices make our homes a sustainable investment.
   By adding affordable homes to El Paso County's housing stock, we're increasing the rate of ownership in neighborhoods and creating stability for residents.
Watch us pour concrete
We're establishing a solid foundation for a new home!
Join us on the construction site at The Ridge at Sand Creek! We're pouring concrete into the foundation of one of our new homes, and our on-site volunteers are ready with shovels and trowels...
The Ridge at Sand Creek Neighborhood in Colorado Springs
30 lots of this 90-lot subdivision in Colorado Springs will become Habitat homes
The developed land of these 30 lots was donated by Love In Action, a Colorado nonprofit corporation.
We will build at least five brand-new, affordable houses per year in this community in partnership with El Paso County families. By building 30 Habitat homes inside this 90-lot development, we will create a mixed-income neighborhood. Each Habitat future homeowner invests 200 hours of volunteering, spends more than 15 hours in financial education courses, and purchases their home with an affordable mortgage.
Follow our The Ridge at Sand Creek Habitat homes' building progress and learn about our future homeowners by clicking on the individual build pages below. Read about our The Ridge at Sand Creek Community Celebration event.
We acknowledge that the land on which we build is the traditional territory of the Ute, Cheyenne and Arapaho Peoples. We also recognize the 48 contemporary tribal nations that are historically tied to the lands that make up this region.
Pikes Peak Habitat hosts four Women Build events every year. Women from all walks of life come together to build and advocate for decent, affordable homes!