Conservation on Our Construction Site
Every day is Earth Day at Pikes Peak Habitat
We're constantly finding ways to make our homes more energy-efficient -- keeping costs low for our homeowners while conserving energy and water.
The Home Energy Rating System (HERS) assesses energy efficiency. The lower the HERS score, the more energy-efficient a home is. A typical house built now has a HERS score of 60-70. Pikes Peak Habitat homes score in the 40s, with a goal to reduce the score to the 30s in the near future, as continued modifications for energy-efficiency are made.
Energy
Pikes Peak Habitat no longer uses natural gas in our homes. Instead, houses are fully electrified. While most of the electrical energy is still generated by fossil fuels, an increasing percentage is being provided through renewable resources, such as solar, wind, and hydro-electric.
Our new homes also are equipped with electric vehicle charger plug outlets in the garages. We don't install solar panels, because the high costs of hail insurance would be prohibitive to many of our homeowners, but we do run conduit from the attic to a nearby breaker box, so homeowners who choose to can easily install solar panels.
Appliances
Pikes Peak Habitat homes are Energy Star certified, which means the appliances we install in the homes are also Energy Star certified.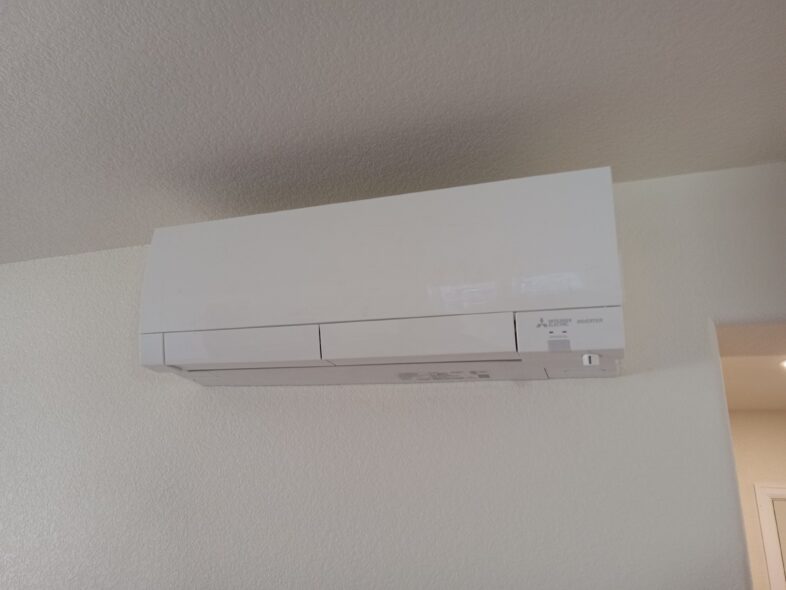 Heat Pump Technology
Pikes Peak Habitat homes use heat pump technology for hybrid water heaters and mini-split air conditioning. Rather than generating heat or cold, these units take the desired temperature from the surrounding air.
Water for Volunteers and Staff
Rather than providing plastic water bottles to staff and volunteers -- and buying ice every day -- Pikes Peak Habitat staff have installed a water cooler in the construction trailer. Volunteers are encouraged to bring their own reusable water bottles, but for those who don't, biodegradable cups are provided. Water comes from reusable five-gallon jugs.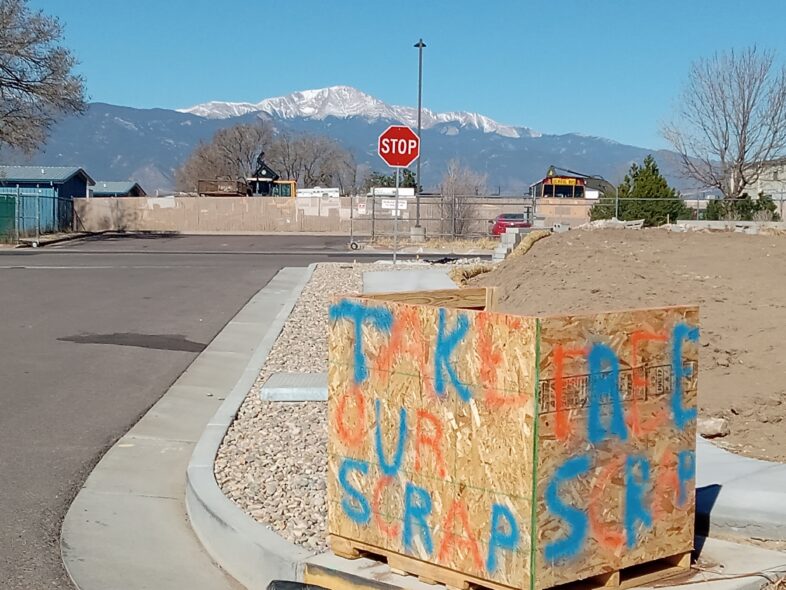 Trash and Recycling
Pikes Peak Habitat is committed to making a positive contribution to the neighborhoods where we build -- and that includes maintaining clean construction sites. In The Ridge at Sand Creek neighborhood, high winds often blow trash into the creek or yards. To minimize this, construction staff and volunteers do frequent trash walks around the site. They use a magnet to pick up nails.
Leftover construction supplies often are donated to the ReStores. Construction staff place scrap lumber and siding in a large box at the build site, which is left at the curb as a free resource for anyone who needs these materials.
Insulation
To keep heat from escaping through the concrete foundation of our homes, Pikes Peak Habitat construction staff and volunteers pour concrete between two sets of two-inch foam board. This gives us an insulation factor of R-20. The R factor is an indicator of resistance to heat transfer; for comparison, uninsulated concrete foundations have around R-2.
For our walls, instead of using standard insulation (R-19), we use fiberglass insulation and add one-inch foam boards on the outside, giving our walls an R factor of 26.
We also use the same foam board as on the foundations and exterior walls to seal attics, including the raised heels of the trusses -- the gap between the top of the exterior wall and the bottom of the roof deck. Our attics rate around R-60.
During the construction process, we also use caulking to seal any gaps where air might leak out, including under wall framing plates, between plywood seams, and around the attic. Colorado regulations require all builders to take these steps as of July 2023, but Pikes Peak Habitat has already been doing this for years.