Christmas 2019
As we prepare for the Christmas Season, I want to thank you for your support and ask you to consider a heartfelt plea for families in need of affordable housing in El Paso County. As rent and homeownership costs continue to skyrocket and outpace wages, families' basic needs compete against each other. Families are faced with choosing between a safe home and other life essentials, like nutritious food, health care, or reliable transportation.
Christmas is a time for celebrating Christ's birth and the HOPE He brought to us. Will you please consider a gift of $20, $35, $50 or more to bring HOPE to families in need of a decent, affordable home this Christmas season?
Your help is needed, now more than ever! In Colorado, 1 in 7 families pays over half of their income towards housing. Last year, 56 families applied to become Pikes Peak Habitat homeowners. Existing funding meant that we could only accept 8 of those families into our program. That's only serving a fraction of the need! But with your donation, you can help finish existing homes under construction and build homes for even more families in 2020.
Your donation will help provide affordable, permanent, and safe housing for low-income families. Every future Habitat homeowner has a need of housing and pays an affordable, monthly mortgage. Every future Habitat homeowner completes 200 hours of sweat equity (volunteer time) towards building their home and attends homebuyer education classes, which sets them up for success in maintaining their home and finances.
Your donation provides families the opportunity to work hard to achieve their dreams of homeownership. In return, homeownership has been proven to dramatically improve families' lives. A decent, affordable home leads to:
Better physical and mental health
Improved education outcomes
Greater security and safety
Reduced use of public assistance as families become more self-reliant
A pathway out of poverty by building long-term financial security
Your donation helps transform the lives of your neighbors right here in El Paso County. Your donation can build the home that empowers families to live fuller lives and give back to our community. You can build communities, the opportunity for hard-working families to help themselves, and you can build HOPE.
May God bless you and may you fill others with the HOPE of this Christmas Season.
Thank you for all you do,
Kris Lewis
Executive Director/CEO
P.S.  A gift of $20, $35, $50 or more today will help finish homes for the families pictured and help us serve even more families who dream of a decent, affordable home.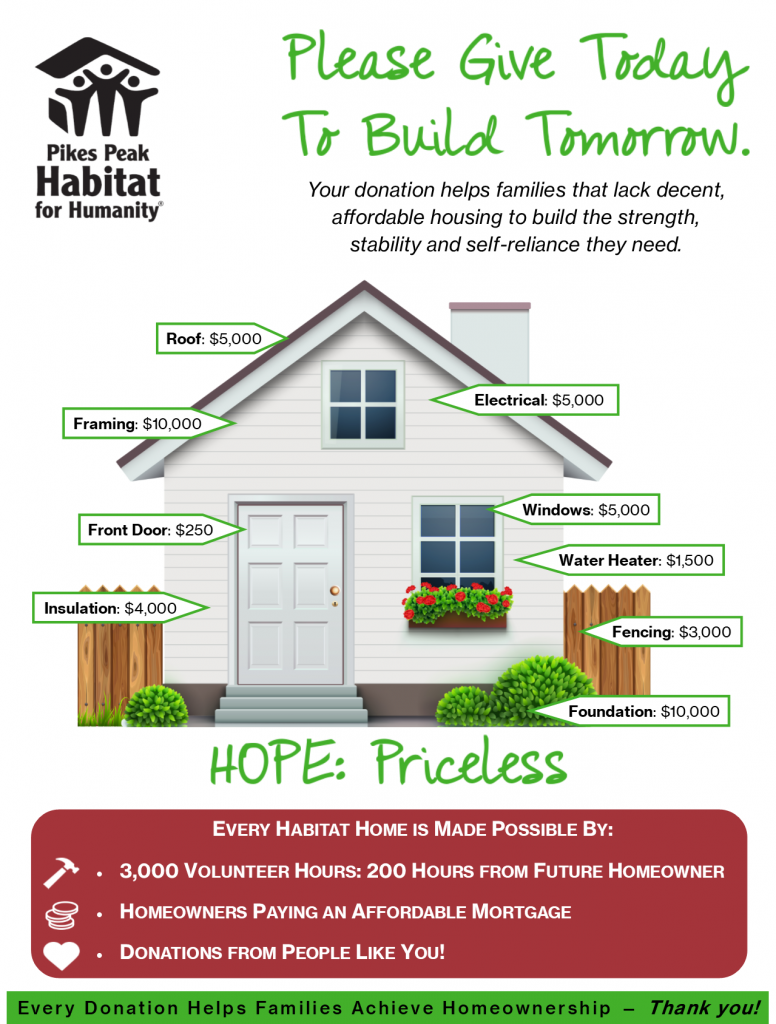 Pikes Peak Habitat for Humanity was granted nonprofit status by I.R.S. code 501(c)(3).
Our Federal Tax I.D. number is 35-1640064.
Donations are tax deductible in the year they are made. Checks must be dated and postmarked by December 31, 2019, and online donations made by midnight on December 31, 2019, for 2019 tax deductions.
If you put a contribution to Pikes Peak Habitat for Humanity on a credit card by the end of the year and don't pay the bill until 2020, it's still deductible in 2019.