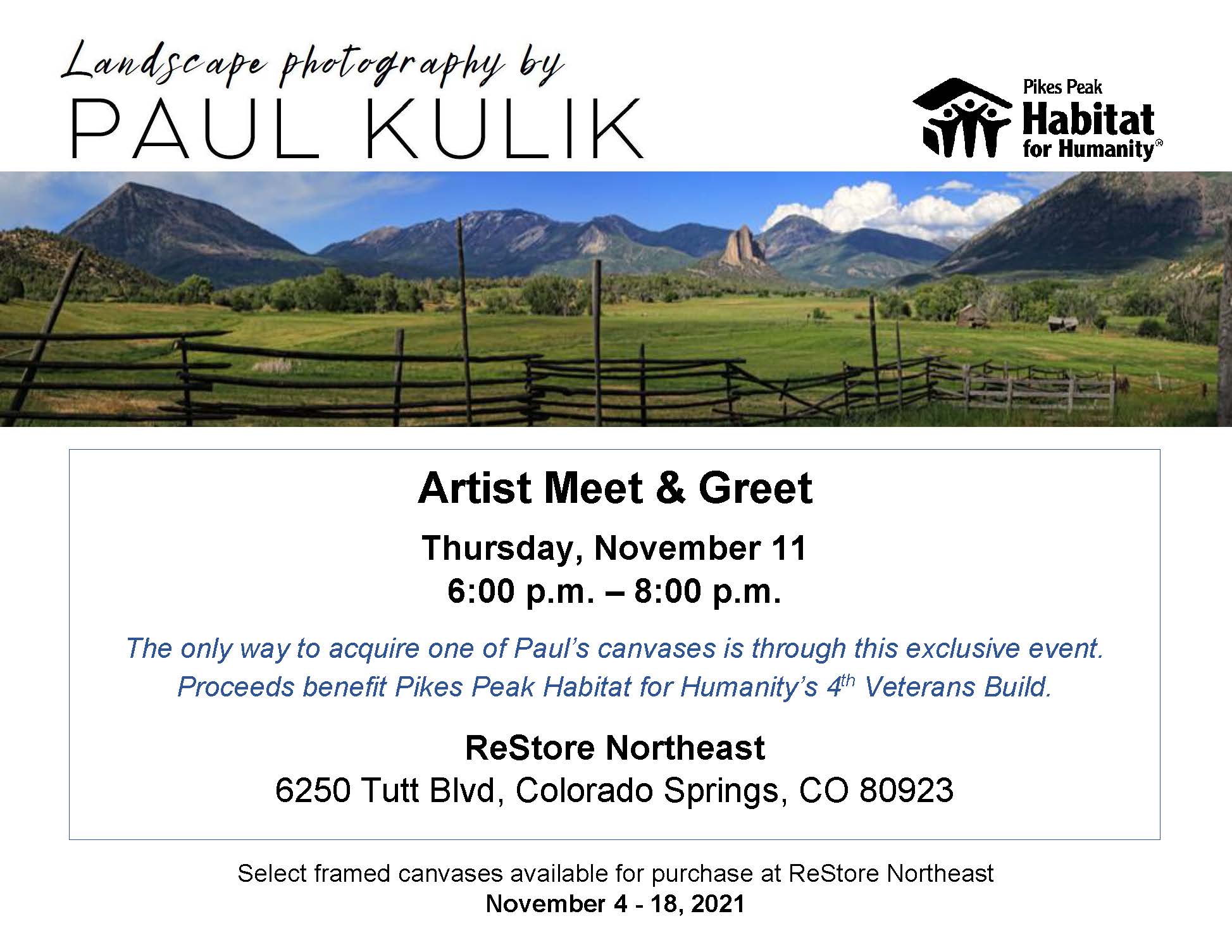 Paul Kulik, Photographer
Paul started his photography career as a teen, landing a job for a small 12k circulation town newspaper in Corvallis, Oregon. After receiving his degree in physics, he left the photography world for about 35 years to pursue a career in semiconductor engineering. In the early 2000s, his wife Carol surprised him with a professional digital camera, and Paul's art-photography side business was born. After achieving some measure of financial success in photography, Paul found that the commercial aspects drained much of the fun out of creating art. After considerable thought, Paul decided to pull the plug on the business side of photography, and now, the only way to acquire one of Paul's canvases is to donate to Pikes Peak Habitat for Humanity or other charitable organizations that he supports. Paul is donating all proceeds from this exhibit to Habitat. The prices shown today reflect the wholesale prices that Paul used to charge galleries, significantly less than the retail markup—a wonderful opportunity for those who wish to own one of Paul's stunning landscapes and support Habitat!
Pikes Peak Habitat for Humanity
This exhibit supports Pikes Peak Habitat for Humanity's (PPHFH) Veterans Build program. Veterans Build is Habitat's national initiative to provide housing solutions and volunteer and employment opportunities to U.S. veterans, military service members, and their families. As an official Veterans Build Affiliate with Habitat for Humanity International, PPHFH is part of a national effort to not only provide affordable and decent homes for men and women who have served, but also join a larger voice advocating for the needs of our veterans and their families. Proceeds from the sales of Paul's photos will specifically help fund the fourth Veterans Build home. Each house currently costs on average $240,000 to build, and with increasing construction costs, PPHFH is grateful to all who donate to help build homes in El Paso County.