Media contact:
Pikes Peak Habitat for Humanity
Monique Bos, Communications Manager
monique@pikespeakhabitat.org
Tel: 719.475.7800 x107
Mobile: 719.318.0147
Pikes Peak Habitat Congratulates New Colorado Springs Mayor Yemi Mobolade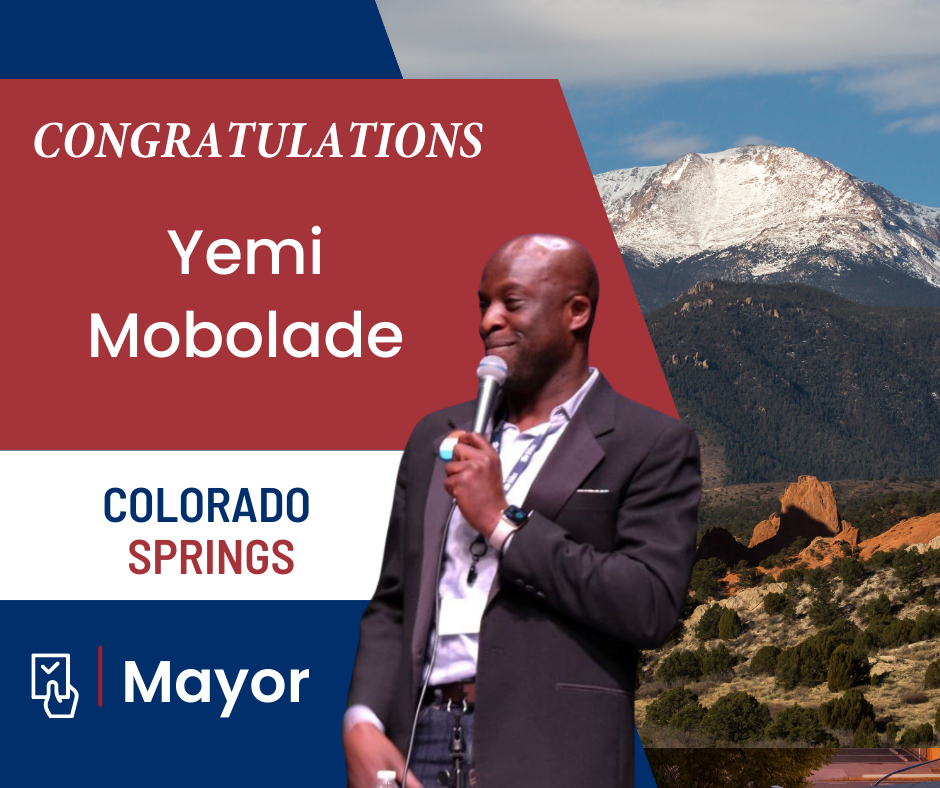 Colorado Springs, CO (May 18, 2023)—After a runoff election May 16, Yemi Mobolade was voted in as the new Colorado Springs mayor. Pikes Peak Habitat for Humanity extends our congratulations to Mobolade, who vowed to immediately start working to "fully staff the police department and end the city's homelessness, prioritize infrastructure needs, add more affordable and attainable housing, and cut red tape for new businesses" when he takes office on June 6.
"Let's get to work!" he said. "I promise to be a mayor of all people."
We also thank Mobolade's opponent, Wayne Williams, for his years of service to the city and state. Addressing the affordable housing crisis takes all of us!
Both Mobolade and Williams, as well as the other 10 candidates in the general election, spoke at Pikes Peak Habitat's Mayoral Candidate Forum on Affordable Homeownership in February.
About Pikes Peak Habitat for Humanity
Pikes Peak Habitat for Humanity builds strength, stability and self-reliance through shelter in El Paso County. We construct permanent, affordable homes in partnership with the community and prospective homebuyers, who purchase their homes with affordable mortgages. In addition, our home repair program works with seniors, veterans and other cost-burdened homeowners in El Paso County, who "pay it forward" by serving their communities. Pikes Peak Habitat has been an affiliate of Habitat for Humanity International since 1986 and has partnered with more than 200 families in El Paso County. For more information, visit http://www.pikespeakhabitat.org and follow us on Facebook, Twitter, Instagram and YouTube.
Press Releases from Previous Years