Habitat is grateful to our veterans for their service, and we are committed to helping support them in their housing need. This year we are kicking off our first annual Veteran Home Build sponsored by Mountain Country. With your donation you can help Richard build a house with Habitat to ensure he and his two daughters have a safe and stable home. Scroll down to donate.
A Hand Up, Not a Hand-Out
Habitat homes are sold to qualifying partner families without profit and financed with an affordable mortgage. The homeowners' monthly mortgage payments are used to build more Habitat homes.
Homebuyers demonstrate a need and earn between 35-80% of the area median income for El Paso County.
Habitat will conduct a credit check to look for outstanding debts, collection accounts, open judgments and recent bankruptcies.
Homebuyers must attend Habitat homeowner classes and invest 350-450 hours of "sweat equity" into the construction or rehabilitation of their home.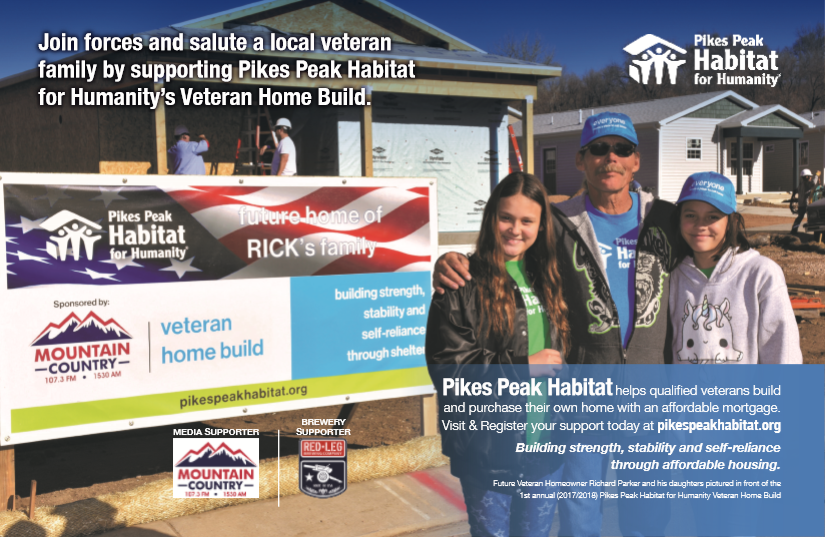 Thank you to Empire Staple Co! They donated nails, fasteners and screws that all went to the Veteran Build.
"Star Guitar" Auction Raises $2,100 for Veteran Home Build!
Mountain Country 107.3 FM and 1530 AM auctioned this Star Guitar to their listeners, with the winning bid of $2,100 from Peak Furniture Sales! This one-of-a-kind guitar features signatures of country music artists Mark Chesnutt, Curtis Grimes, Eric Hansen, Cody Johnson, Aaron Watson, Kevin Fowler, Roger Creager, Jake Worthington, Cody Canada, Sam Riggs, Drew Fish, Mark Powell and Jeremy Plato. The signatures were collected by Mountain Country over the past several months and make this guitar a real collector's item. All proceeds benefit the construction of Pikes Peak Habitat for Humanity's Veteran Home Build.
Together we're building homes, community and hope...with some great music, too!
Red Leg Celebration Supports Habitat
Check out the Ground Breaking on December. 2, 2017
Red Leg Brewing's Cannon Crew Volunteers work on the Veteran Home Build's foundation
Pikes Peak Habitat for Humanity was granted nonprofit status by I.R.S. code 501(c)(3).
Our Federal Tax I.D. number is 35-1640064.
Donations are tax deductible in the year they are made — by the end of Dec. 31
If you put a contribution to Pikes Peak Habitat for Humanity on a credit card by the end of the year and don't pay the bill until 2019, it's still deductible in 2018.
If you choose to mail a check to Pikes Peak Habitat for Humanity, it must be postmarked by Monday, December 31st, 2018. Adhering to these dates will ensure you get the tax benefit for this year, 2018.