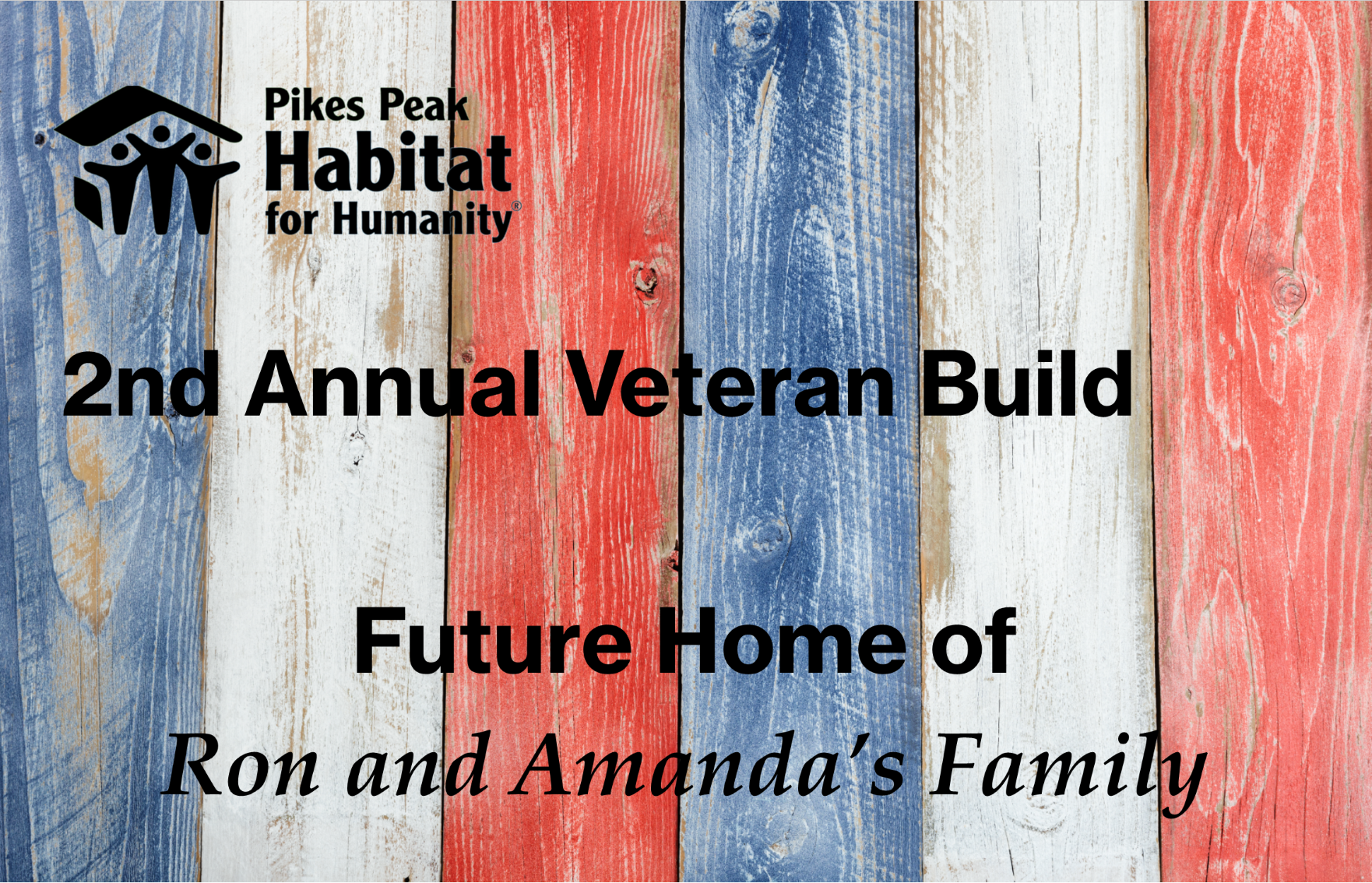 Ron and Amanda's Ground Blessing was held on June 29, 2019, and their virtual Home Dedication celebration premieres on June 6, 2020.
Please enjoy their virtual Home Dedication!
Future Homeowners, Ron and Amanda's story. . .
Celebrating their 19th anniversary this July, Ron and Amanda would not have met if it weren't for their connections to the U.S. Army and Fort Carson, Colorado. Ron enlisted in the Army as a high school senior and attended basic training before graduating high school. He had dreams of traveling the world. Upon completion of basic training, Ron returned to high school to graduate and receive his diploma. His journey with the army landed him at Fort Carson, where he served as a medic. About the same time, Amanda's father was completing his 21-year career in the army, also at Fort Carson. When her dad left the military, the family moved back to Virginia, but Amanda stayed in Colorado Springs, living on her own so that she could complete high school. It was at a local coffee shop where Ron and Amanda eventually met. After marrying and having their first daughter, they moved to Fountain, Colorado. Amanda became a stay-at-home mom when she was pregnant with the last of their three daughters, realizing that her paycheck was going to pay for childcare -- a trade-off that made sense for her to take care of the children herself. Ron now works as a tow truck driver, following employment in IT/computers, and a stint with a cell phone company.
The past year has been burdensome in Ron and Amanda's efforts to secure affordable housing for their family. The town home where they had been renting was sold to a new company with untimely renovations, forcing all renters out of the complex while improvements were made, resulting in a $500 increase in rent for Amanda and Ron. In the middle of winter with 60 days' notice, they had to find a new place for their family. To find an affordable home, the family had to sacrifice on space -- another trade-off. They now live in a 900 sq. ft. 2-bedroom, 1-bath house. All three girls share one small bedroom. Their home is cramped, and space has become even more problematic as each of their daughters is experiencing sensory and boundary issues. The oldest was diagnosed on the autism spectrum last year, and the two younger girls are displaying similar behavior that has led Amanda and Ron to home school their children.
Now as future Habitat homeowners, Amanda and Ron look forward to living beyond paycheck-to-paycheck, and having a stable home and safe neighborhood for their children.