PPHFH had to postpone the Volunteer Appreciation Event again this year due to the COVID-19 pandemic. We have tried to reschedule the event, but alas to no avail. As a result, the PPHFH leadership team has taken the difficult decision to officially cancel the in-person event for a second year and instead created a pre-recorded 2020 Volunteer Award Ceremony.
2020 Volunteer Award Ceremony
Every hand makes a difference.
Thank you to all the dedicated board, committee, construction, deconstruction, and ReStore volunteers and their families, who supported PPHFH this past year.
Our 2020 Volunteer Award Ceremony was released June 4, 2021.
We look back at 2020 and celebrate all of PPHFH's volunteers for the work they did to build homes and transform lives through affordable homeownership in El Paso County and around the world.
Please read below to learn about the awards and winners from the (prerecorded) 2020 Volunteer Awards Ceremony.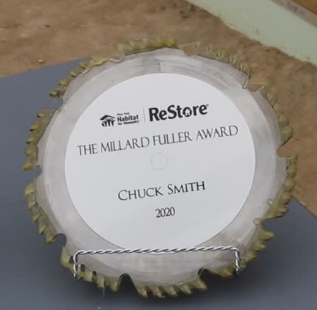 Award Winner, Chuck Smith
PPHFH Board Member & Governance Committee Chair
Millard Fuller Award
The volunteer who demonstrates leadership, going above and beyond the call of duty, and who exemplifies asking others to get involved.
(voted on by the PPHFH Board of Directors & Staff, Construction & ReStore Committees, and Volunteers)
Millard Fuller Award Recipient: Chuck Smith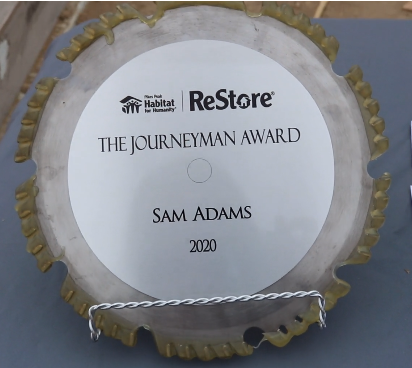 Award Winner, Sam Adams
PPHFH Development Committee Chair
Journeyman Award
The volunteer who has made a long-term commitment to Habitat and performs vital behind-the-scenes work for our affiliate, and is ready and willing to do whatever is needed to keep Habitat running smoothly.
(Voted on by PPHFH Staff)
Journeyman Award Recipient: Sam Adams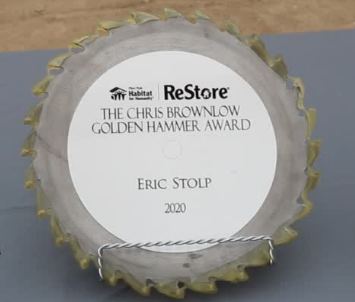 Award Winner, Eric Stolp
PPHFH Board Member & Faith Relations Committee Chair
The Chris Brownlow Golden Hammer Award
This award is named in honor of Chris Brownlow and is presented to the individual who displays the joyful and loving qualities Chris consistently demonstrated. These characteristics include strong leadership, always performing work with joy and a positive attitude, having a servant spirit and conducting him or herself in a manner that is synonymous with the philosophy of Habitat for Humanity both within and outside of the organization.
(Voted on by PPHFH Board of Directors)
Chris Brownlow Golden Hammer Award Recipient: Eric Stolp
The George Hammond Award
The George Hammond Award honors individuals who, through their tireless service to PPHFH, have exhibited qualities of leadership, an unwavering belief in Habitat's ministry, as well as demonstrated a deep devotion and passion to serve the community and people of El Paso County, Colorado.
For more than 25 years, George Hammond has been the committed builder of homes, communities, and hope in El Paso County. This award will henceforth recognize and be bestowed upon those volunteers that, in the PPHFH George Hammond Award Board of Director ad-hoc committee's opinion, have significantly given of themselves and provided positive mentoring, guidance, support and collaboration to future homeowners, volunteers, and affiliate staff.
A recipient of the George Hammond Award is a volunteer who truly is noteworthy for their constant contributions to the mission of PPHFH - a constant supporter, a constant advocate and, most importantly, a constant leader.
(Voted on by the PPHFH George Hammond Award Board of Director ad-hoc committee)
George Hammond Award Recipient: Harry Moore