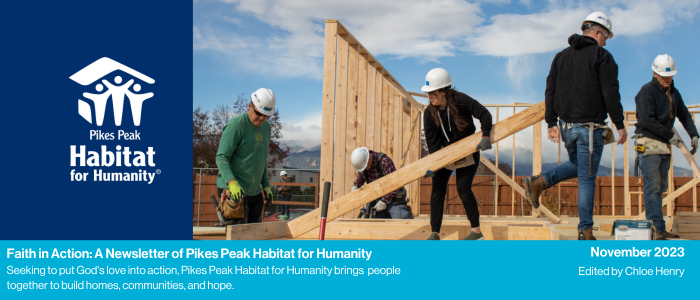 Pikes Peak Habitat Faith in Action Monthly e-News
For Churches
Program Spotlight: Invite Your Church Youth to Participate in the 2023 Gingerbread Build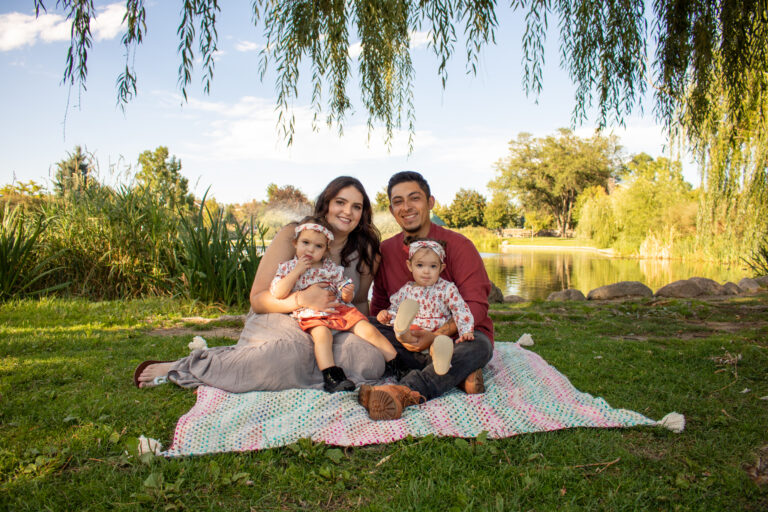 Pikes Peak Habitat has a special opportunity for church youth groups to have some fun as we come together to build holiday cheer, friendly competition, and an affordable home for a local veteran's family!
Since 2019 our affiliate has hosted a Gingerbread Home Build: A Gingerbread Home Decorating and Fundraising Competition. During this competition individuals, businesses, and nonprofits sign up to decorate a gingerbread house and compete in a virtual competition against other gingerbread houses to raise donation votes for our Veterans Build. This year, we have added a special twist specifically for church youth groups that includes an special in-person Gingerbread Village Decorating Night! By participating in the Gingerbread Home Build, your youth group will not only experience a night of friendly competition and fun, but will also be working on a project to help a local Army veteran family, Damian and Trinady, during the Advent season.
Registration is open and participating is easy:
1 Register to Become a 'Builder'
Sign up your youth group to become a builder in preparation for the in-person decorating night. Since our staff recommends that no more than 4 - 5 students work on a house together during the in-person decorating night, you will have an opportunity to purchase additional gingerbread kits to accommodate the size of your youth group. Upgrade by purchasing "building permits" to enhance your gingerbread home kit! Pikes Peak Habitat supplies these additional items for you to add to your house as you decorate. Registrations are limited so be sure to sign your group up by Nov. 22 to participate!
2 Attend the In-person Gingerbread Village Decorating Night
After you register, prepare to bring your youth group to attend the Gingerbread Village Decorating Night on Friday, Dec. 1, from 6 - 7:30 p.m. During this night youth groups from around the county will come together to decorate their kits in-person and kick off the Christmas season. There will be awards, small prizes, snacks, and an opportunity to meet our future veteran homeowners. All gingerbread kits and upgrade packages will be provided to youth groups when they arrive at the event.
3 Encourage Friends & Family to Vote
After the in-person decorating night, Pikes Peak Habitat staff will upload pictures of your youth group's finished gingerbread home to your church's personal fundraising page. Then, your youth group can encourage friends, families, and fellow congregants to "vote" for the church's gingerbread home with a donation. Voting runs through midnight Friday, Dec. 15!
The three gingerbread homes that raise the most money for our Veterans Build will win 1st, 2nd, and 3rd prize! When you participate as a builder or donate to vote for a gingerbread home, you're directly supporting our Veterans Build for Damian and Trinady's family.
Save the Date: Join Us for the 2023 Apostles Build Home Dedication
The 2023 Apostles home dedication ceremony is right around the corner! Don't miss this special opportunity to join in prayer with Christians around the city, hear from our homeowners, and watch them step into their home for the first time, marking a new chapter in their family's story. We hope you will join us!
The celebration takes place Saturday, Dec. 9, at 10:30 a.m. at The Ridge at Sand Creek, 5303 Beauport Dr., Colorado Springs, CO 80915.
Recap on Church Staff Build Morning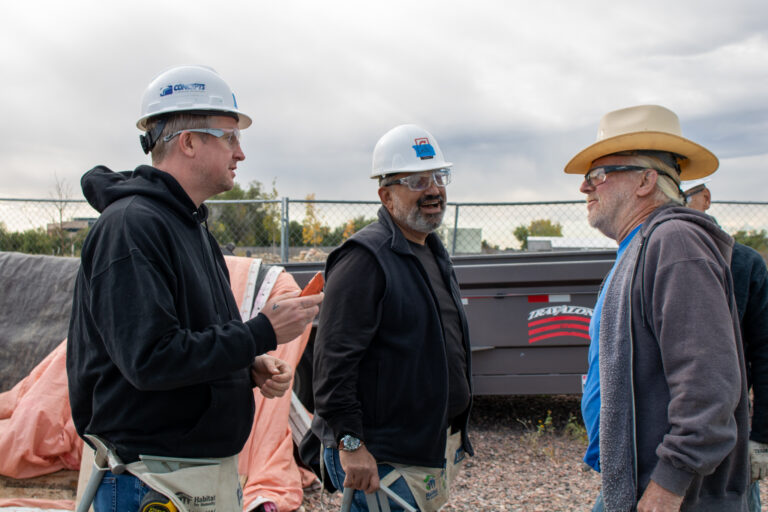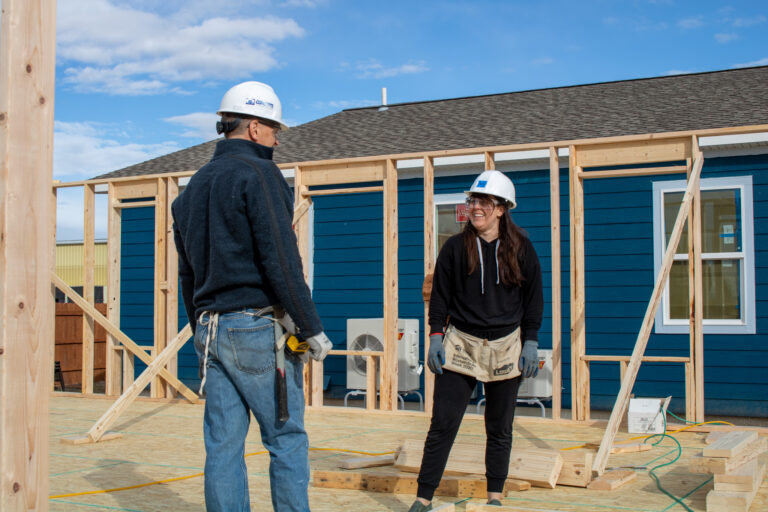 On Thursday, Oct. 12, 2023, church staff members from around El Paso County came together for our first Church Staff Build Morning at The Ridge at Sand Creek neighborhood. The heart behind the event was simple: provide an opportunity for church staff members to fellowship, rejuvenate, and volunteer together. Pikes Peak Habitat is aware of the long hours and dedication church staff put into serving their congregations and our community, and we desired to provide a space for church leaders to get to know one another and be poured into.
During this special event attendees fellowshipped over breakfast in one of our nearly completed Habitat homes and participated in a morning devotion led by Giles Armstrong, the president and program director of SonScape Retreats. The weeklong retreats offered by SonScape have "helped thousands of pastors, missionaries, parachurch leaders, along with their spouses, to balance the demands of life, family, and ministry while rekindling their passion for Christ and His church." During the morning devotion, Giles offered an encouraging message to church leaders and emphasized how even Jesus prioritized spending time with his Father. After the morning festivities attendees headed over to the Pikes Peak Habitat trailer to start volunteering.
Thank you to all of the church leaders that were able to join us for this special event and put faith into action for half a day. Pikes Peak Habitat plans to offer another Church Staff Build Morning in Spring 2024. If you are interested in attending, please reach out via email to Chloe@pikespeakhabitat.org and our staff will make sure that you receive an invite.
Ways to Put Faith into Action This November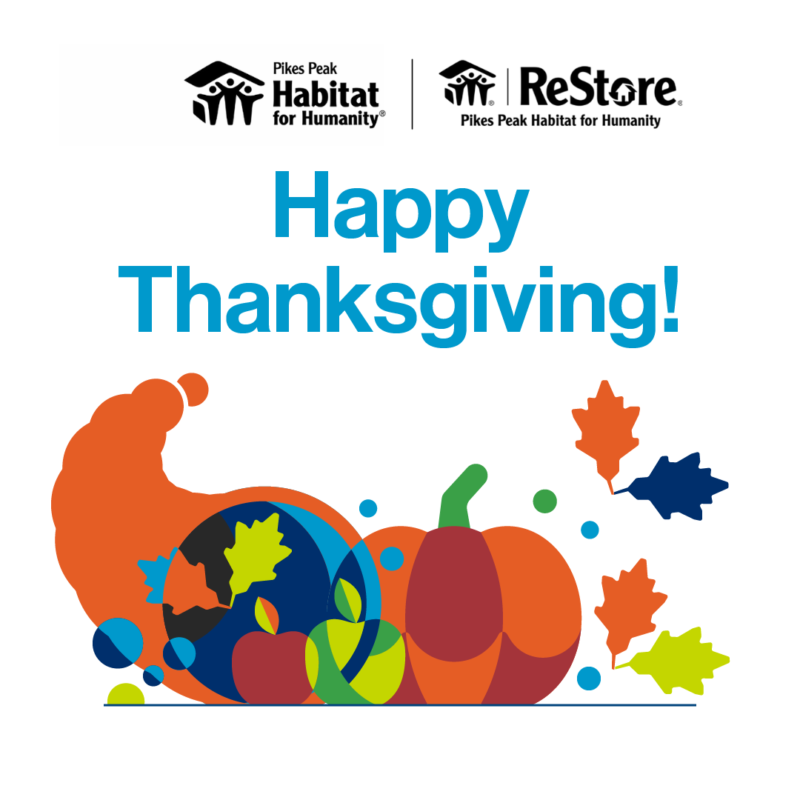 Happy Thanksgiving from Pikes Peak Habitat
This November, Pikes Peak Habitat wishes you and your loved ones a happy Thanksgiving. As we gather around the table with family and friends, fellowship, and share a meal together, may we all embody the words of Colossians 3:15-17:
Let the peace of Christ rule in your hearts, since as members of one body you were called to peace. And be thankful. Let the message of Christ dwell among you richly as you teach and admonish one another with all wisdom through psalms, hymns, and songs from the Spirit, singing to God with gratitude in your hearts. And whatever you do, whether in word or deed, do it all in the name of the Lord Jesus, giving thanks to God the Father through Him. -Colossians 3:15-17 (NIV)
Check Out Our Year in Review Video
Thanks to our outstanding volunteers, donors, partner organizations, community members, and ReStore supporters, Pikes Peak Habitat for Humanity changed lives in FY '23! Thanks to you, five more workforce families became homeowners through Pikes Peak Habitat — and we look forward to partnering with nine more in this next fiscal year! Be sure to check out our FY '23 Year in Review Video and full report to learn more about all we were able to accomplish in partnership with you, our supporters and partners.