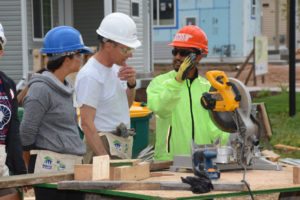 Our local construction vendors help Pikes Peak Habitat build homes here in El Paso County.
We want to thank and recognize two groups of vendors for their generous gifts.
2017 OFFICIAL VENDORS
This status is for vendors that not only offer goods and services at discount or in full, they also donate a cash gift or sponsorship at 10% over and above the goods and services.
Aspen View Homes
Foxworth-Galbraith Lumber Co.
VENDORS
These vendors donate some or all of their goods and services.
All Phase Electric Supply
City Of Fountain
Clark Land Surveying
Colorado Springs Utilities
Concepts in Millwork, Inc
Creative Touch Interiors
Don Zamboni
El Paso Drywall
EnergyLogic
Front Range Cabinets
Fountain Sanitation District
GE Johnson Construction Company
Home Builders Services
IBEW
IECC
JB Masters Roofing and Gutter Service
Jim Riggins
Kent Glass
Krueger Bros. Construction
Marquez Cleaning
MD Service Plumbing
Metco
Peak Electric
Precision Trim
Rangewood Enterprises Inc.
RMG Engineers
Roof Crafters
S & B Porta Bowl Restrooms, Inc.
Safe Haven Gutters, LLC
Sandoval Painting
Scotts Company
Thunderbolt
W. W. Grainger, Inc.