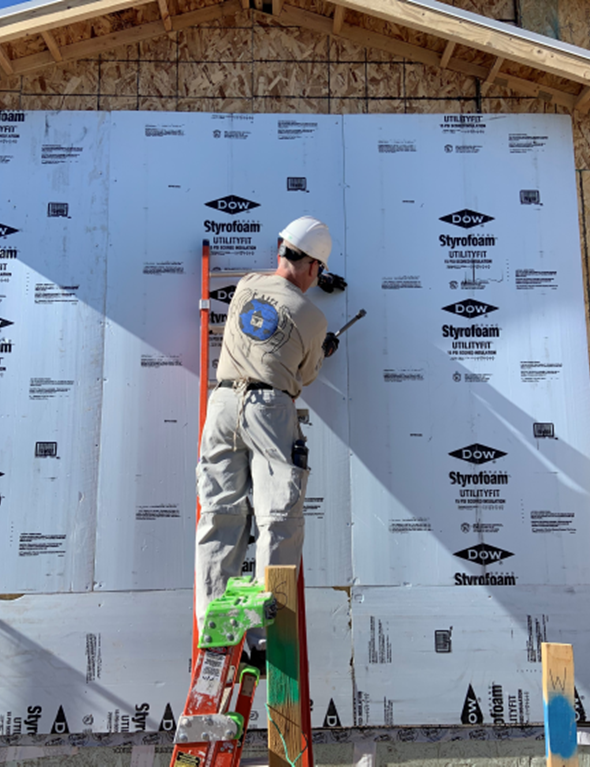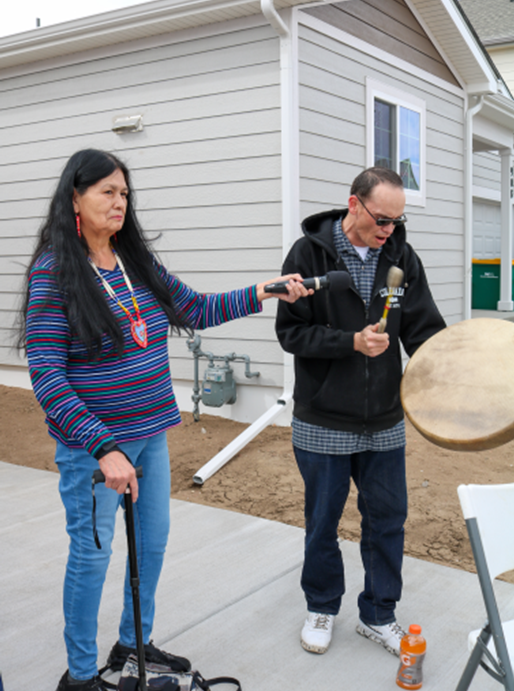 Overview of the Interfaith Build for Unity
In a time of division, uncertainty and fear, Pikes Peak Habitat for Humanity is working together with our community to build homes, unity and hope. While El Paso County is home to a diversity of political opinions and theological beliefs, one thing we can all agree on is that everyone deserves a safe and decent place to call home.
In 2021, Pikes Peak Habitat started bringing together congregations, groups and communities from a variety of faith traditions, spiritual practices and beliefs to volunteer side by side, to build affordable homes for families in El Paso County. In March of 2022, Pikes Peak Habitat and our valued partners came together to celebrate the completion of the first Interfaith Build for Unity (IBU) home. The second Interfaith Build for Unity is currently underway. IBU volunteer days are a time of celebrating tolerance, cooperation and love for our neighbor as volunteers come together to help make homeownership possible for a local family.
Here is how it works:
Invite members of your faith community or group to volunteer during one of our IBU volunteer days. (No experience is necessary, but volunteers on our construction site must be at least 16 years old.)
Your group is paired with a team of local volunteers from a different faith tradition.
The two groups work together, share lunch together, and stand unified as friends and equals.
Interfaith Build Days are scheduled throughout the year. Contact us to learn how your faith community can reserve a spot and can help us build in unity.
Building the Beloved Community
Meet the 2022 Interfaith Build for Unity Partner Family
Do you want to put your faith into action, serve your community, and be a symbol of peace, tolerance, and unity? Join us!
Pray based on the dictates of your faith for Pikes Peaks Habitat for Humanity
We would like to recognize this ever growing list of partners, friends, supporters, volunteers, and donors. The Interfaith Build for Unity project would be nothing without the participation and enthusiasm of our local faith leaders.
In the Episcopal Church, we promise, as baptized Christians, to respect the dignity of every human being. The work of Habitat for Humanity promotes human dignity and gives volunteers the opportunity to work in the fields of hope. By coming together as an interfaith community to do this work, we witness to the all-embracing love of God in this world; we help make the world a better, and more beautiful, place.
Pikes Peak Habitat for Humanity Interfaith Build is an opportunity to not only lay a physical foundation but also an emotional and mental foundation, for all faith groups, to come together as one, united for one common cause- HUMANITY. I joined the Interfaith Build because I wanted to show our community that Islam is built on a foundation of compassion for our neighbors regardless of their faith. We Muslims work hard to seek out charitable opportunities that reap great rewards with God, we strive for peace and harmony with our neighbors and lend a helping hand anywhere we can. To see a family walk into their home for the first time and be able to call a permanent place home makes every minute of hard work worth it.
If you would like to learn more about how you or your community can get involved with the Interfaith Build for Unity, or engage with Habitat through our various Faith in Action Programs, please reach out:
Chloe Henry
Faith in Action Program Manager
719.475.7800 ext. 115
Previous Interfaith Build for Unity
We acknowledge that the land on which we build is the traditional territory of the Ute, Cheyenne and Arapaho Peoples. We also recognize the 48 contemporary tribal nations that are historically tied to the lands that make up this region.